Sup blog fam! Your girl just got back from the chillest weekend in Indianapolis aka Naptown, Indiana. I didn't know what to expect but it turned out to be so lit! Let me spill all the tea.
Rolling into Indy
My besties Sarah, Lily and I road tripped down from Chicago on a Friday morning. The drive was a breeze, only taking about 3.5 hours thanks to no traffic (a nice change from the Windy City!). We grabbed Starbucks and jammed out to our road trip playlist the whole way.
We could already tell Indianapolis seemed way more lowkey than Chicago as soon as we arrived. The downtown streets were noticeably less crowded and hectic for a major city.
After checking into our cute vacation rentals apartment, we set out to walk around and get a feel for the city landscape. There were some taller glassy skyscrapers between all the shorter brick warehouses and factories leftover from Indy's manufacturing roots. This city definitely used to be all about making things like cars and tools back in the day.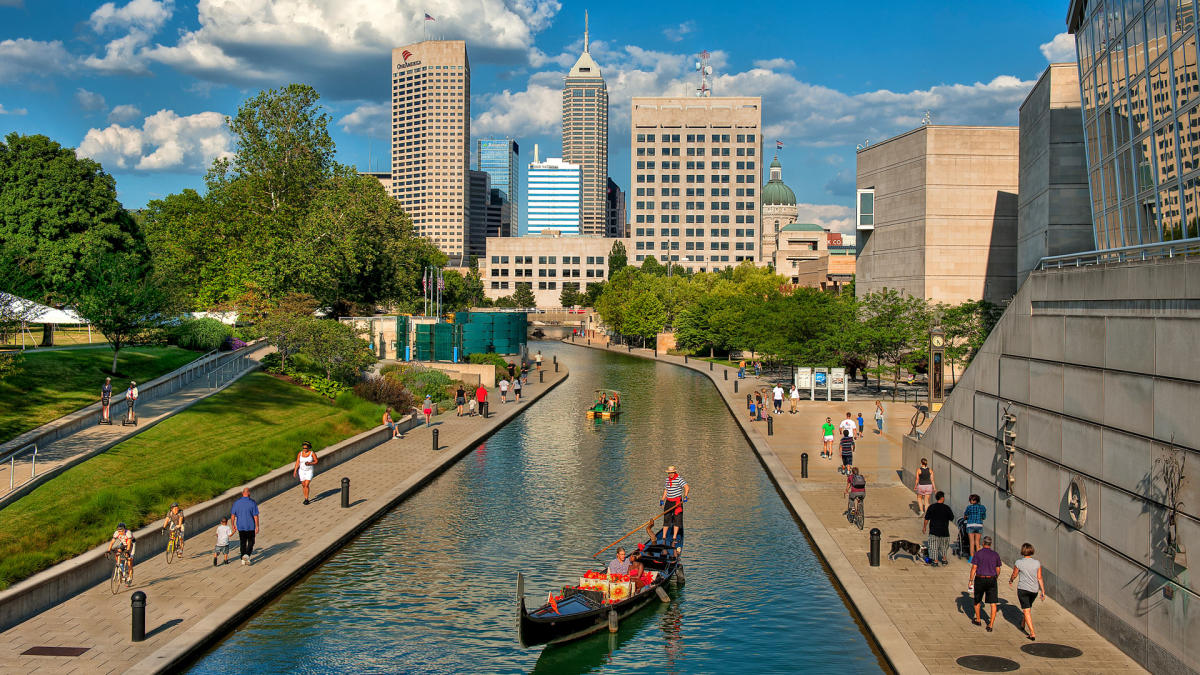 Getting Our Sports Fix
That first night we got right into sports mode, which is what Indy is known for. We hit up an Indianapolis Indians minor league baseball game at Victory Field right downtown. The ballpark had a fun, lively vibe with locals cheering on the home team over hot dogs and beers.
We posted up on the outfield lawn, munching on classic ballpark grub like peanuts and Cracker Jacks. The homemade root beer at the concessions stand was so good too! We had a blast even though the Indians lost.
The next morning, we visited the most famous sports spot in the city – the Indianapolis Motor Speedway. This is where they hold the Indy 500 race every year! Doing the track tour was bucket list level as a fan of NASCAR.
Walking on the actual race track was unreal. And being able to kiss the bricks at the start/finish line gave me chills! We also explored the incredible museum on site which houses vintage Indy 500 race cars and trophies. I was practically drooling over the sleek vehicles up close. So much history!
That night we got hyped up at an Indiana Pacers basketball game at Banker's Life Fieldhouse downtown. The arena atmosphere was insane – so many devoted basketball fans screaming and cheering for the home team. They seriously love their sports in Indy! The Pacers ended up crushing it, which made our first sports-filled day perfection.
Experiencing Arts & Culture
When we weren't cheering on the home teams, we made sure to hit up some culture too. Because Indy has way more to offer than just spectator sports!
The Indianapolis Museum of Art in particular blew me away with its expansive collection of works from Monet, Rodin, Picasso and more art legends. Seeing Van Gogh's bedroom painting in real life was a dream. They also had an amazing outdoor sculpture garden filled with colorful Alexander Calder pieces that I frolicked in like a little kid.
Downtown, the Arts Garden connected to Circle Centre mall was a cool spot for live music, unique art installations and craft vendors. We caught an indie band playing, browsed local art booths, and watched a jazz dance performance. Indy's art scene pleasantly surprised me!
Bar Hopping on Mass Ave
Of course we had to balance all the sports and cultured activities with some lit nightlife! The first night, we let loose dancing on the patio at Babylon Indy in downtown Fountain Square. This place belonged in Miami or Vegas – outdoor cabanas, neon lights, fire pits and dj pumping remixes like crazy. The tiki cocktails in pineapples definitely enhanced the vibe too.
The next night, we bar hopped along Massachusetts Ave, which had the coolest stretch of indie bars, hipster coffee shops, and boutiques. It felt like a mini Melrose Ave with its trendy personality. We also waited in line for epic burgers at BRU Burger Bar and licked ice cream from local dairy parlor 21 Fountains.
Later, we hit up some rooftop lounge bars around downtown, admiring the skyline views. Indy's nightlife offerings definitely went beyond my expectations for a Midwest city.
Urban Green Space at Eagle Creek Park
On our final day, we got back to nature at Eagle Creek Park, a 1,400 acre green oasis right in the middle of the city. We hiked along pretty waterfalls and forest trails, worked up an appetite. Then we grabbed lunch at the boat house restaurant out on the reservoir, where people kayaked and paddle boarded in the distance.
It felt kinda crazy to be surrounded by so much pristine wilderness while still technically being in the heart of downtown Indy. Just another example of this city's surprising gems.
Home Sweet Naptown
As we drove to the airport on our last day, I felt so won over by everything Indianapolis had shown me. The incredible sports culture, vibrant arts, fantastic food, and that small town Midwestern charm – it all came together into such an appealing travel destination!
Indy isn't just flyover country, it totally holds its own against larger cities like Chicago. My girls and I are already planning a trip back there in the warmer months to experience more of Naptown's magic. Maybe we'll time it with a Colt's football game or the Indy 500!
So that's all the piping hot tea on my fab Indy getaway! Let me know if you have more tips for exploring this underrated city. Where should I eat, shop and party next time I'm in town? I need the inside scoop! Toodles for now.